At the Indigo Love of Reading Foundation we work hard to ensure that children across Canada have access to books and the opportunity to fall in love with reading. However we also recognize the support of passionate and dedicated education staff is vital to creating a positive environment for students to succeed. That is why we have worked hard to create resources and tools for educators to help them inspire a love of reading in their students. These resources are designed to help frontline education workers make the most of the books they introduce to their libraries or classrooms, and ultimately to continue inspiring the next generation of readers and leaders on their literacy journey.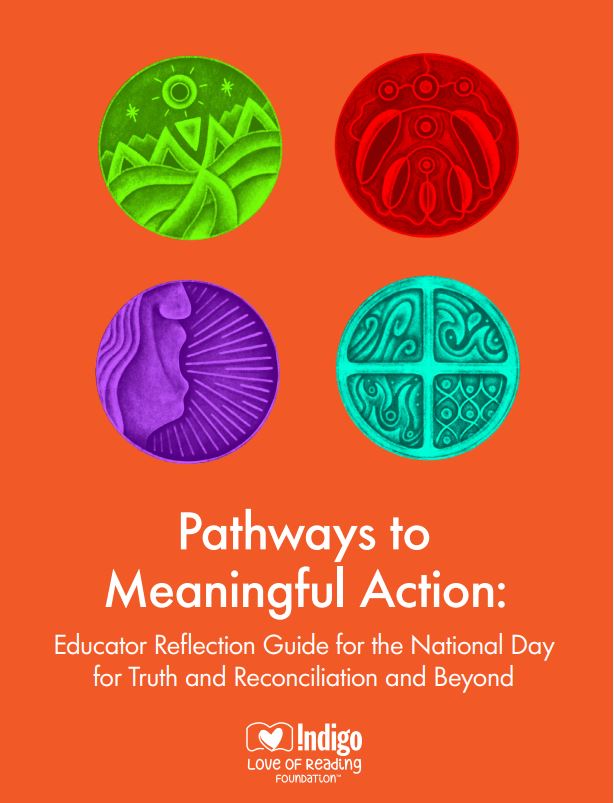 Pathways to Meaningful Action: Educator Reflection Guide for the National Day for Truth and Reconciliation and Beyond
The work of Truth and Reconciliation can be challenging because it requires thoughtful and meaningful action, but also because it can challenge educators on the inside—our emotions, our assumptions, and our beliefs about what we know and don't know. This year, in collaboration with The Critical Thinking Consortium (TC2) we have worked to create a reflection guide for educators intended to help with that work and to provide prompts, ideas and resources (for both educators and families) to extend the work of one day throughout an entire year.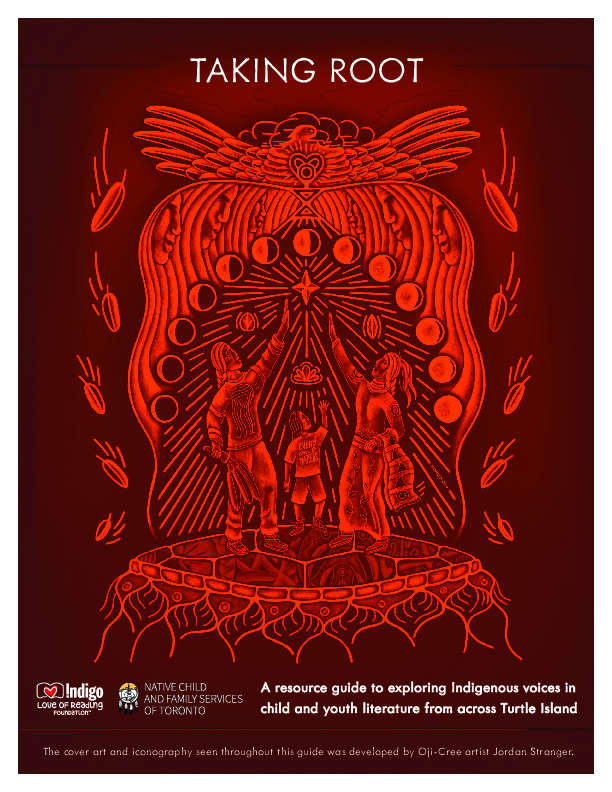 Taking Root – A resource guide to exploring Indigenous voices in child and youth literature from across Turtle Island
The Indigo Love of Reading Foundation is committed to advancing reconciliation within all the programs and partnerships we facilitate. While the books we provide help achieve this goal, many of the schools, parents and even students we work with reach out regularly for support in selecting Indigenous texts that will support them in their own goals of promoting reconciliation, education, and cultural reclamation. It is for this reason that we sought out partnerships with Native Child and Family Services as well as the artist Jordan Stranger to create a resource guide for students and educators that highlights 50 book titles for children and youth.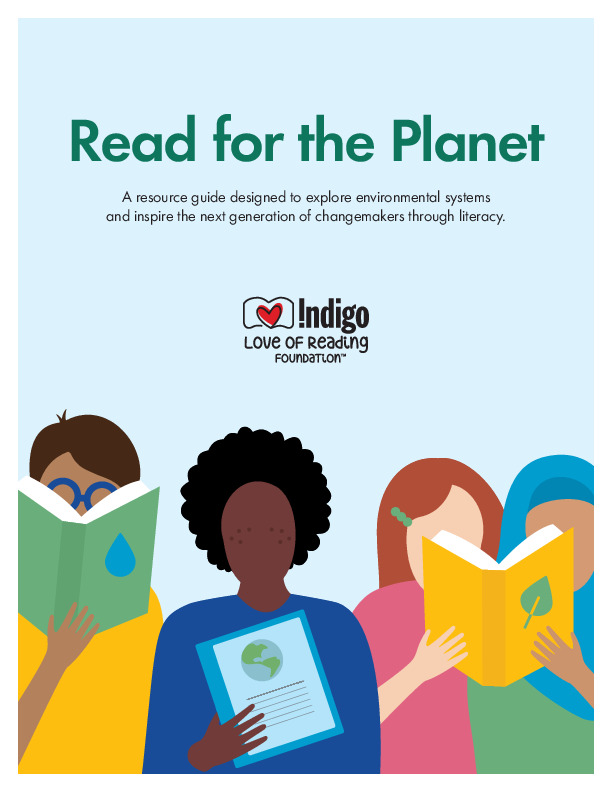 Read for the Planet – Lesson Plan
This resource includes 8 different lessons, grouped by grade reach (K-2 and 3-6), that we hope will support students in thinking deeply about important concepts related to caring for the planet and developing the thinking tools they need to make meaning from, and also challenge what they are reading and learning. We have worked to build this document to be as resource-ready as possible with provided teacher and student activity sheets that can be printed and utilized to complete the various learning objectives and experiences of the lessons themselves. In the appendix of this resource, we have included curated reading lists of suggested book titles to use alongside the specific lessons.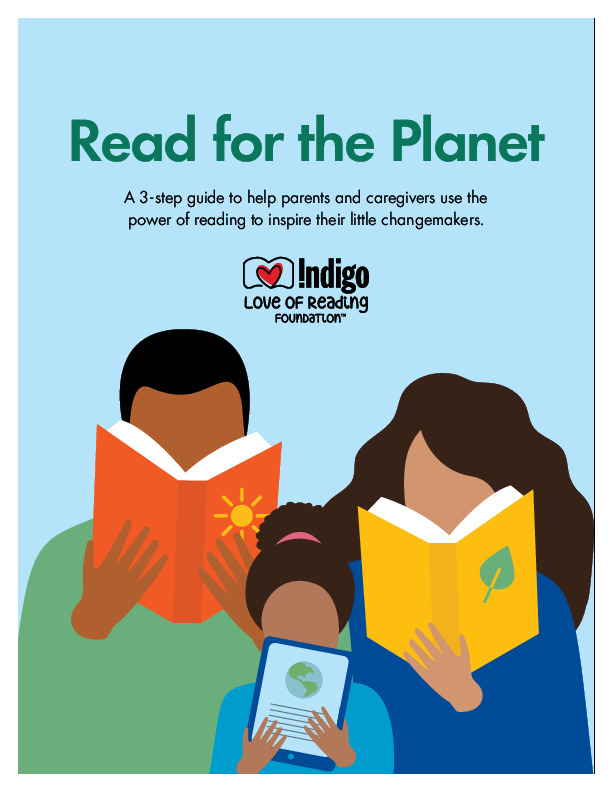 Read for the Planet – Family Guide
Read For The Planet learning modules. We know that schools are just one place students learn and that home is a critical space for expanding on and practicing what happens in the classroom. This guide provides parents and caregivers with book suggestions, worksheets, discussion prompts and a template for a home-based action project all to help you and your little changemaker to get inspired through reading and have fun while learning about the environment together.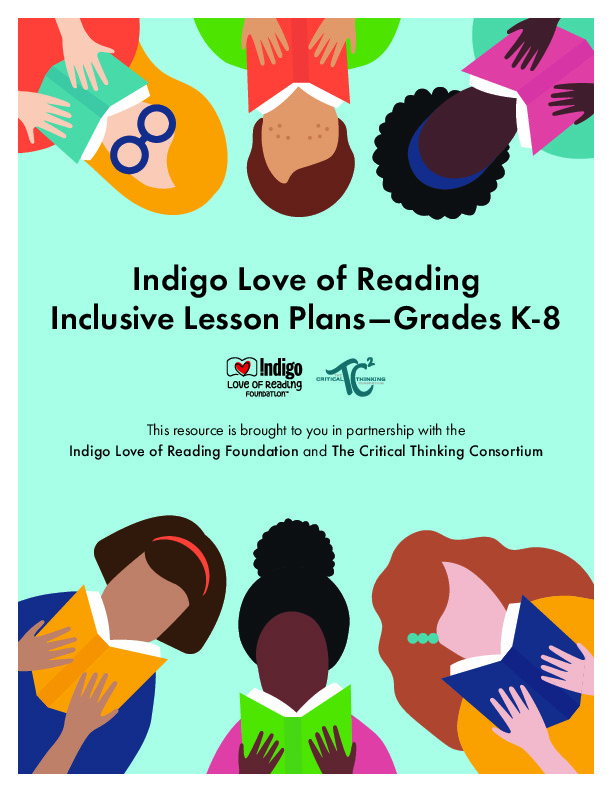 Indigo Love of Reading Inclusive Lesson Plans – Grades K-8
The Indigo Love of Reading Foundation is excited to connect our educator community to a fantastic set of lesson plans designed to help students think deeply about important concepts around inclusion and develop the thinking tools they need to make meaning from, and also challenge what they are reading and learning. Embedded in the lesson plans themselves are 42 suggested expert book recommendations for each grade range selected by Canadian-based educators invested in anti-oppressive and anti-racist education.