---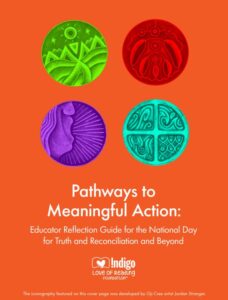 At the Indigo Love of Reading Foundation we are frequently asked to support students, parents, educators and educational staff in their efforts to promote Truth and Reconciliation through books and literature. Last year on September 30th we partnered with Native Child and Family Services of Toronto to design a resource guide with book recommendations that would support Indigenous and non-Indigenous communities with rich stories on a variety of topics. This year, we wanted to provide a different kind of tool that would focus not only on September 30th but an entire year of bringing Indigenous voices and texts into the classroom, homes and of course, the library learning commons.
What if we were to spend time on September 30th , the National Day for Truth and Reconciliation, to reflect on and plan the journey we might take during the next school year?
The work of Truth and Reconciliation can be challenging because it requires thoughtful and meaningful action, but also because it can challenge educators on the inside—our emotions, our assumptions, and our beliefs about what we know and don't know. This year, in collaboration with The Critical Thinking Consortium (TC2) we have worked to create a reflection guide for educators intended to help with that work and to provide prompts, ideas and resources (for both educators and families) to extend the work of one day throughout an entire year.
Supporting your learning all year long:
Beyond the resources found in this guide, The Indigo Love of Reading Foundation will post monthly prompts containing further learning opportunities with associated book recommendations to support and extend the work of Truth and Reconciliation in your classroom. These monthly prompts will be posted between October 2023 to June 2024 via the Foundation website, social media channels (on Facebook and Twitter), and through our various newsletters throughout the school year to our subscribers. We welcome all feedback on this initial reflection guide and the extension prompts to come: please feel free keep in touch with us at loveofreading@indigo.ca as you embark on your learning journey through these suggested resources.
Please note: The Pathways to Meaningful Action reflection guide has been developed in collaboration with TC2 educational consultants who have reviewed the content thoroughly with Mohawk knowledge keepers with whom they have an an ongoing, sustained and accountable relationship. The content within this guide was also reviewed by Indigo's Indigenous Knowledge Consultant Fred Martin. This reflection guide is an outgrowth of Taking Root: A resource guide to exploring Indigenous voices in child and youth literature from across Turtle Island, an Indigenous-themed literacy project developed in close consultation with Native Child and Family Services of Toronto.